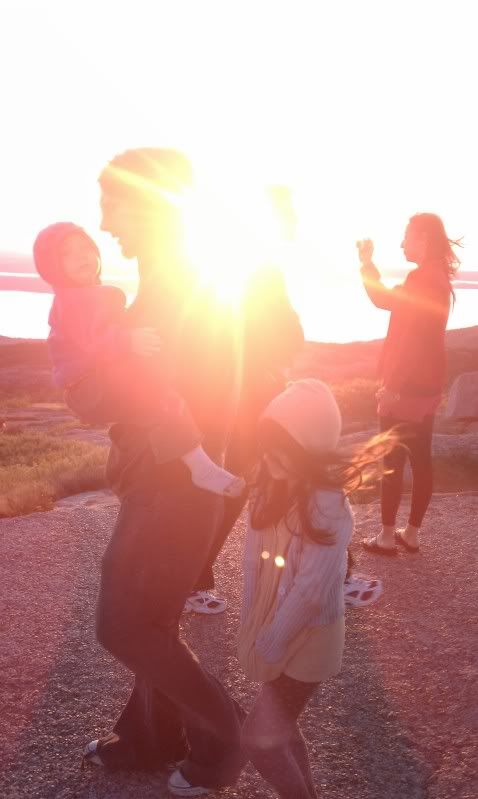 We wanted to be on Cadillac Mountain at 5:32am when the sun would rise and hit that point before any other place in the US. Cadillac Mountain is in Acadia National Park in Maine. We, however, were outside Acadia National Park, spending the night in a Walmart 45 minutes away.
So, we woke at 4am, moved the children out of their bed and into ours so that we could dis-assemble their bed to install car seats.
We used the bathroom, nursed the baby, and took down the curtains that cover the windshield at night.
We placed the children in their two carseats and one booster seat, and started the engine before their peeps could become wails.
45 minutes to the park and15 minutes up the mountain, throw on socks and layers and pull our hoods over our ears, everybody grab a child or two and wrap them in your warm arms and out Benny's door to climb the rocks that jutted toward the rosy sky.
If you'd told me there would be 200 people there, I probably would have skipped it. I had pictured a remote and personal moment communing with the wilder, less reasonable elements of nature. Just my family, and maybe a few others, champions facing the goliath of the rising sun, ambassadors representing our species in the greater arena of our solar system.
Instead, as Benny pulled in we saw a rocky mountainside lined with human silhouettes and instead of feeling let down, the sight was welcoming: like coming home to your family, like discovering travelers speaking your mother tongue in a foreign land, or discovering unexpected company at a remote oasis on a wide and empty desert.
And we weren't champions or ambassadors, but pilgrims, both deserving of and privileged to witness what was both miraculous and mundane and to do so in the company of others who might be making the same discoveries or totally different ones, and without the presence of whom we might not have recognized the magic in the moment. Some stumbled out of cars, some jogged up the mountain. Someone sat on a rocky wall making reverent chords on a guitar, and we could have been gathered on a beach around a bonfire, but we were on a mountain at morning twilight.
So we saw the day begin, and there were families, like us, clutching each other for warmth, and many people were in pajamas, several with blankets wrapped around them, forming peaks over their heads and transforming them into unspecified native people, all natives of earth, all stardust (million year old carbon).