Boston was fantastic. The city has a strong and endearing personality and we quite fancied each other. Firstly, these New England cities are not really built for Rvs. The lanes are skinny, the quarters cramped, little parking, few lots, low clearance underpasses, one way streets up and down steep hills with the parked cars on either side threatening at every moment to encroach upon the bit of pavement in between which calls itself a driving lane. Side mirrors beware!
Yet do-able. David drove us to Cambridge the first day and we found a parking spot on the street right away. But after a dead battery, the discovery that AAA in Massachuesetts does not cover Recreational Vehicles (and what's the point of having a membership that doesn't cover an RV if an RV is your only vehicle?), paying out of our very slim pocket for a jump start, hurrying up and waiting for the tow truck to arrive to do the jump start so we can then drive Benny to an AutoZone to charge up our batteries before they close in—yikes, 12 minutes!
After all that, and nightfall, David was soured on Boston. Please, I say, we have to at least see where the police and the traffic made way for ducklings! And, sucker for good literature that he is, David agreed and drove us to the Boston Public Gardens and we loved Boston!
Again, we found street parking. It took driving up and down the streets for a few minutes but when we found it, it was just across the street from the entrance with the ducklings—the very corner illustrated in the book. So we enjoyed our day, and drove quite a ways out to find a Kmart we could park in that night because Boston is not the sort of place to have stores with big parking lots and when we did pause in the big parking lot of the grocery store we patronized, signs were posted limiting our stay to two hours, and only because we were customers.
And, while Boston was do-able, we decided to take a bus the next day. We left Benny at Kmart in the prestigious company of Rihanna's tourbus which had also found refuge in this outskirt of Boston after her performance in the city the night before. And the rest of us hopped a bus into Boston and hopped off in the historical district. It may be worth noting that this was our first family bus ride.
We gave ourselves a tour of sites with historical significance, listened in on some tour guides, read some gravestones, and ate lunch on the grass. A well dressed, older couple were full and gave their last piece of pizza to us and we took it (David and Annabelle split it). How is this different, David wondered, from when the scuzzy guy at a concert offered us the rest of his popcorn and we declined? It just was different, that's all.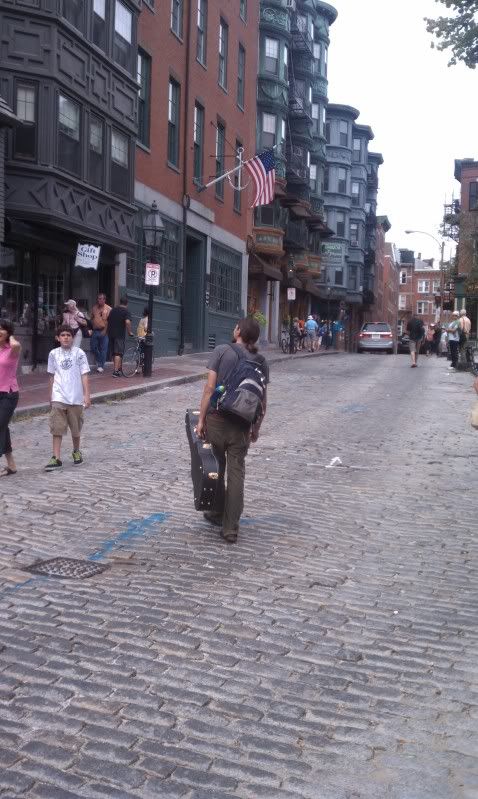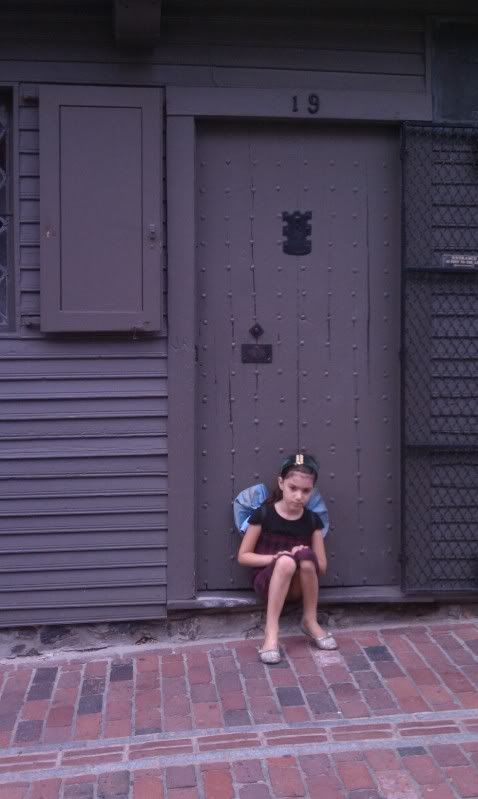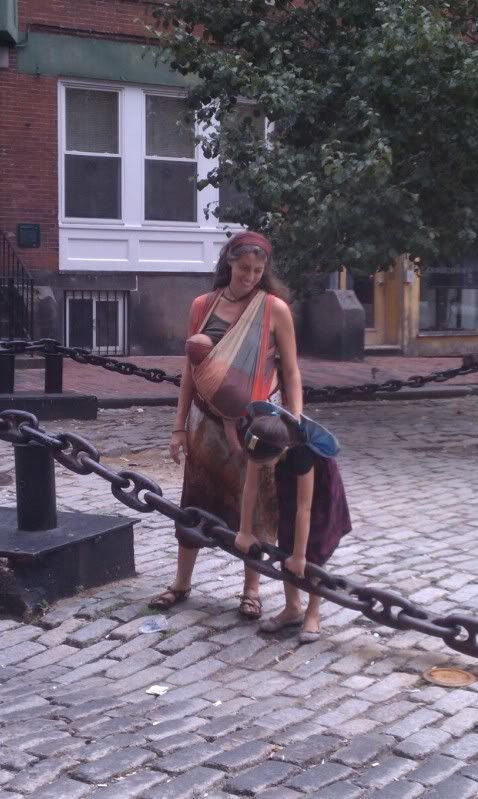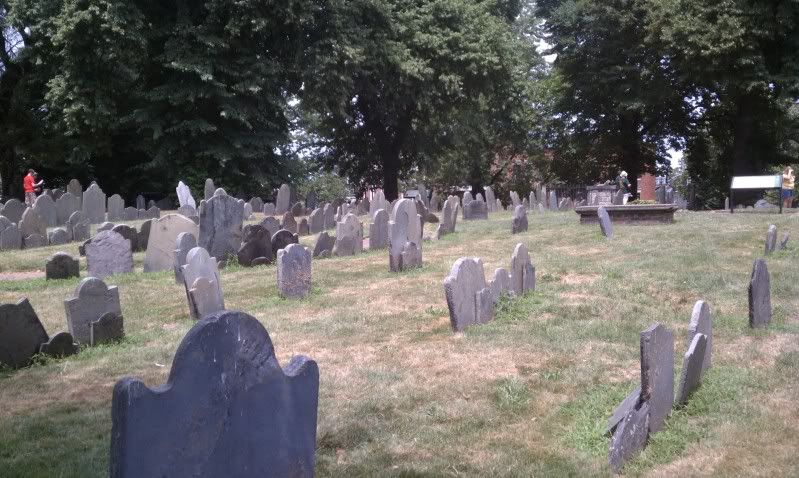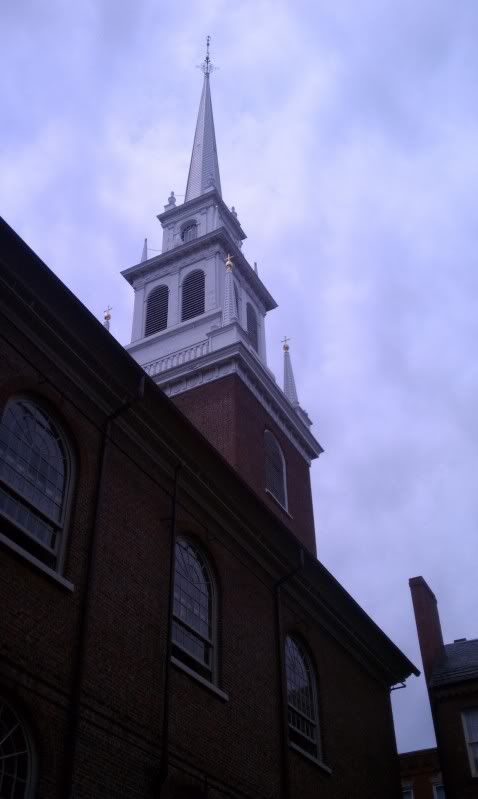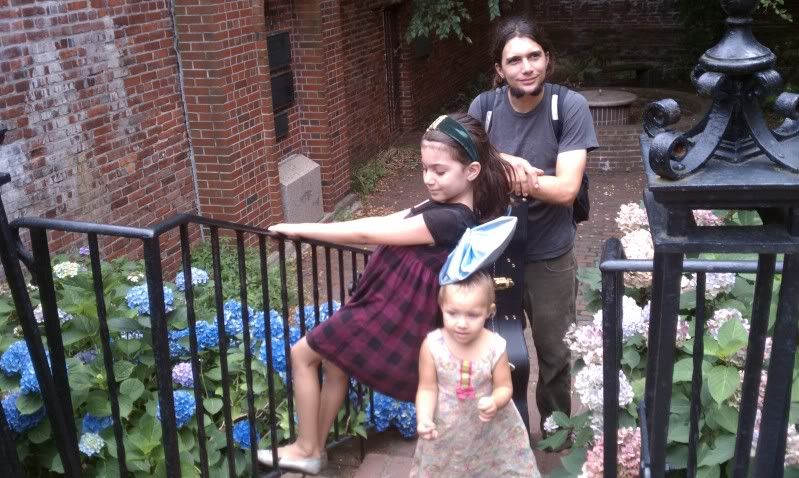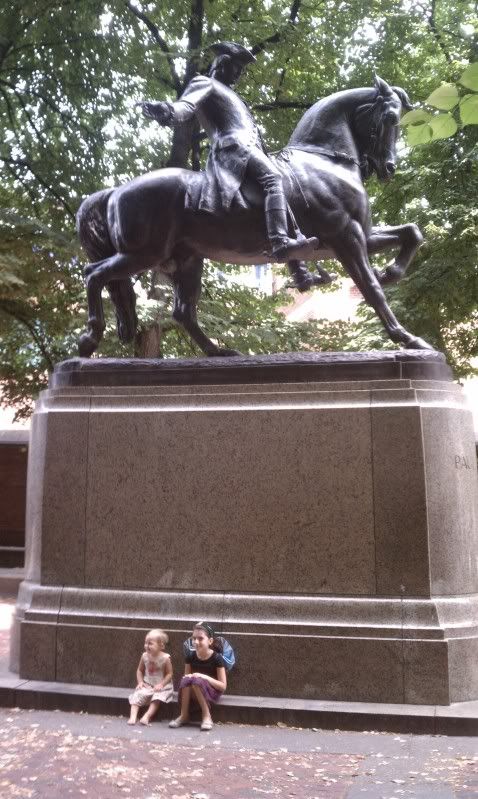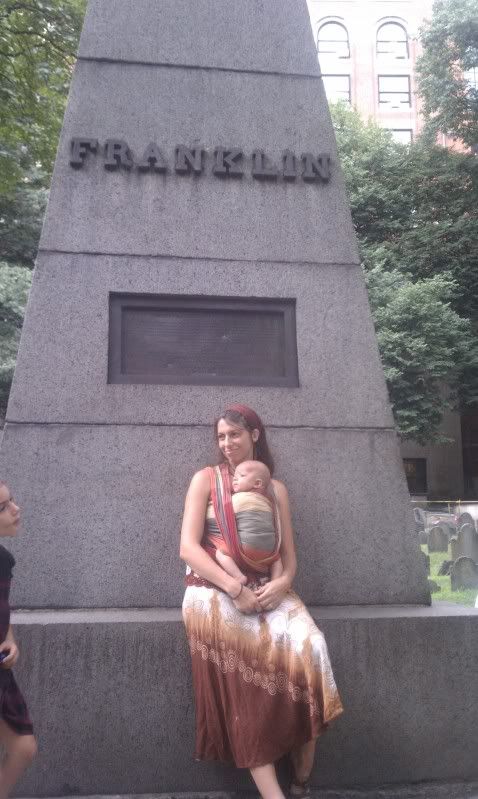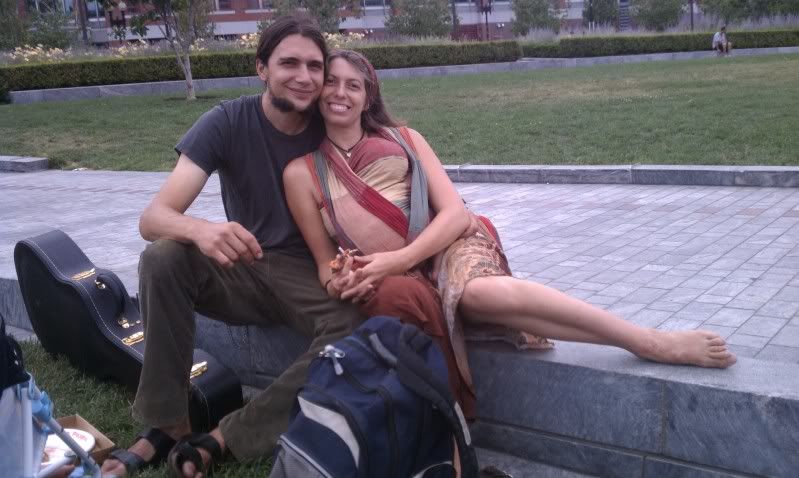 And after all that history, we were ready for the Boston Public Gardens again so we walked to the Gardens and David whisked out his guitar and busked in a thoroughfare while the rest of us played on the adjacent playground and a drizzle joined us. Then we made our way through the drizzle back to the bus stop where we rode the bus the wrong way to the end of the line and back again, safe and sound, to Benny. Rhianna was gone, but we spent a second night, hit Trader Joe's in the morning, and bid adieu to Boston.