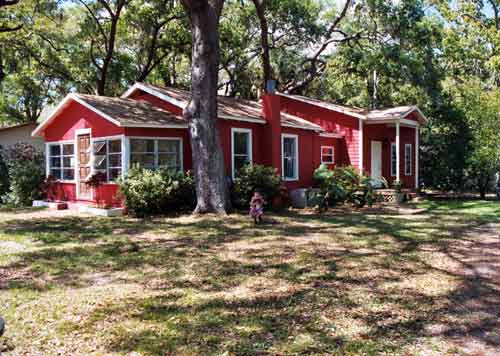 The stress of trying to arrange for an estate sale was too much for me, so I let it go and have been giving our things away.  I've found that there is a greater benefit to this decision than I knew:
We're letting go of the an accumulation stage of our lives.  We're saying, "Nah, we don't need things," and, "That IS beautiful–I'm glad I got to see it but I don't need to own it."  We're saying, "I don't need more than five outfits–it's easier to keep up with laundry this way."
Selling our possessions is still granting them too much importance.  It is letting them continue to loom large in our lives, hearts, and pocketbooks.  It is still living life in accordance with ownership.
Giving them away is much more in the spirit of this great endeavor we are embarking upon.  Giving them away says that possessions are useful to those who use them, and we begrudge them to no one.  It says that we are open to things (material and ideological) flowing in and out of our lives unhindered by sometimes-irrational emotional ties.
I also figure the karma is bound to prepare us for a life of needing and using little, and relying on being able to conjure up what we do need as we need it.   Letting our things go out into the world, creates a world where things can flow to and from us more easily.  Being less greedy makes it possible for us to have things more easily.
Practically speaking?  We have lots of expenses to cover in preparation for this trip.  Wouldn't selling our things help get our solar array?  Yes.  But it's not worth it.  We will just have to get our solar array without hoarding and haggling.
I'm struggling now to figure out how to apply this newfound release (and relaxation) to our house.  Debt is always a complicating factor, and that's the problem with the house–we owe as much, or more than, it's worth.  How do we release the house when it is tied to obligation?  We looked into selling it, but it doesn't seem like we can get enough to pay it off.  So we're looking into renting it, which is not our preference because we want to be cut free from the ownership of it.  We want to not be collecting money from it, and paying money out on it.  We want to not know or care if something broke, or even whether the trees are fruiting.  We have other things to rest our attentions and intentions upon now and we're ready for a different game.
Yet, the debt, and the house remain.  It is a beautiful house, that I would dearly regret letting go if I wasn't so excited about letting go.  We got married on the lawn surrounded by the people dearest to us.  Our daughters were born in the house.  We built half the house ourselves, painted fanciful murals and details, tiled imaginative and personal mosaics, planted blooming vines that have flourished…
And now that I am finding it so easy to let go, I can appreciate the house, and the memories, without any urge to hold onto the physical markers of those things.  I have my husband, my marriage, and my children.  The place where wonderful things happened–and whether or not we keep it–is not nearly so relevant to the wonderful things themselves as it used to seem.
While I contemplate how to release the house, debt and all, I invite anyone looking for a love-filled family home to consider buying or renting ours, seen here: http://www.wrapyourbaby.com/house/details.html
And anyone who has advice or words of encouragement–always welcome!  Please comment with your insight.  I could use some right now.