*I wrote this on 26 January, but it didn't get posted until now–documents my first driving experiences with Benny*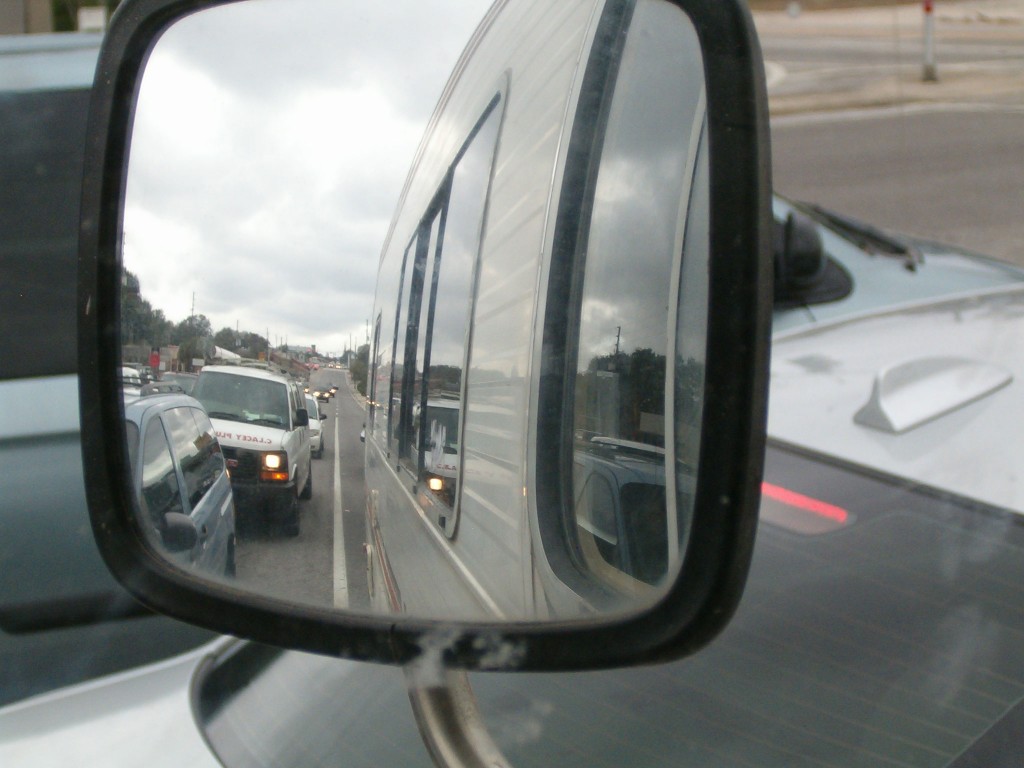 It's true, we plan to fulltime in the motorhome without a toad, or pulled (towed) car.  That means that we will use our motorhome for all of our errands, grocery shopping, and any other getting around.
I'm getting plenty of practice.  We transferred the registration from my car, to Benny the Brave, which means Benny is now my only means of transportation.  I learned to drive it this weekend.
Monday I drove to the health food store.  I drove around the parking lot until I found two empty spots, back to back.  Benny fits in the width of one parking space but is just a couple of feet too long.  So I usually center the vehicle with the front in one spot and the back in another.  Also saves me from having to back up when I leave, which would not be safe in a busy parking lot without someone to guide me.
Benny also takes up the full width of the parking spots, so squeezing in between two parked cars would not be easy, nor appreciated by the owners of those cars when they returned.  So I look for two spots front to back, and space on both sides.  Grocery stores usually have plenty of wide open spots in the back of the lot.  Maybe I won't go to the mall on Black Friday, though.
The drive was so easy and comfortable that on the way home from the health food store we stopped at the Salvation Army to look for wooden plates and metal cups (I want our dishes to be not-delicate, and not-plastic).  Most of the parking is only one space deep (we wouldn't fit) but behind the building are several unused spots and I just pulled into them horizontally, making sure I had room to pull forward when we were ready to leave.  No problem!
Tuesday we stopped to mail a wrap to a customer at our tiny corner gift-store/post office.  They definitely don't have parking to accommodate Benny, but across the tiny residential street is an unused storage building with plenty of open paved space.  I just pulled right onto the paved space which is sort of like the shoulder of the road.  Trotted across the street to the post office, then back to Benny where I could have pulled forward to leave, but because I wanted to head in the opposite direction, I did a tight little U-turn that Benny is remarkably good at.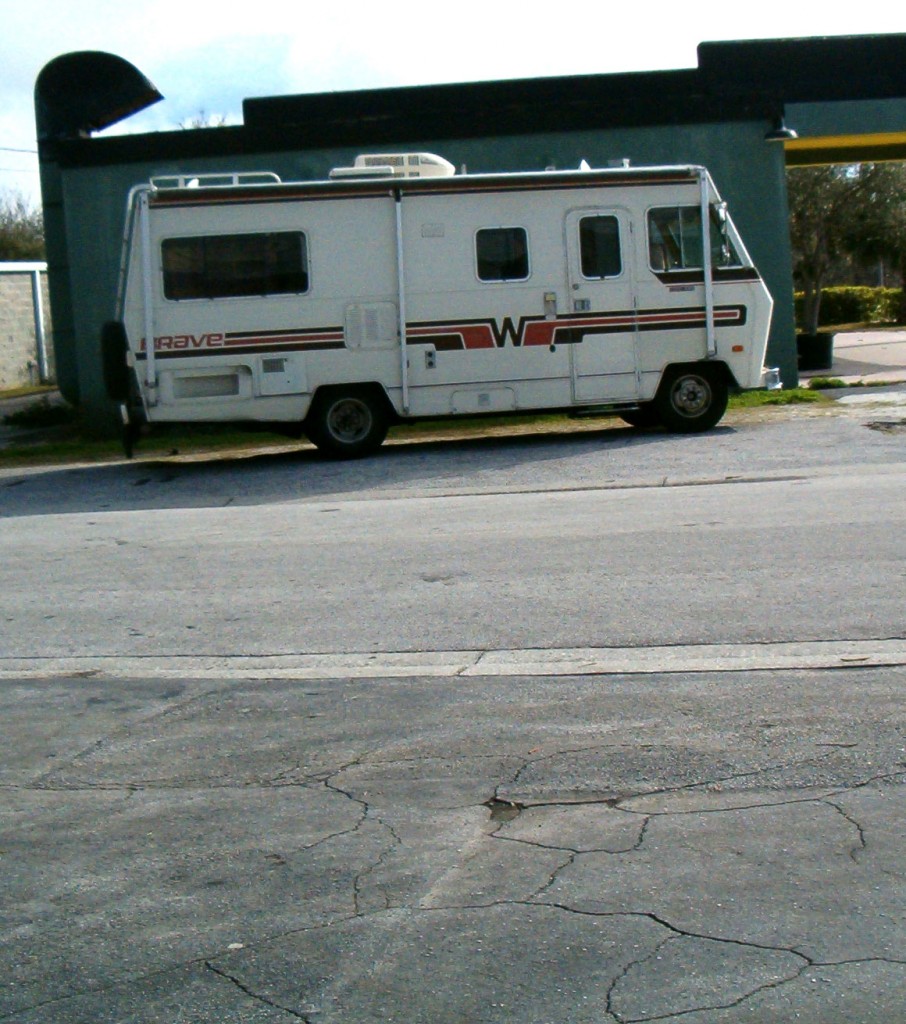 Then we headed for Goodwill, hoping to find what we hadn't found at the Salvation Army the day before.  Goodwill is in a shopping center and it was easy to find a pull through spot (2 spots, really) near the rear of the parking lot.
Today (Wednesday), I drove to my weekly Moms Group which takes place at a church.  I almost parked in the corner, where I felt we would be out of the way, and then remembered the no-backing-out-if-possible rule.  I circled around and found a double spot near the back where I'd be able to pull forward and out when it was time to go.
After Moms Circle, I headed to the bank to deposit some cash.  Totally forgot I wouldn't fit in the drive through.  I circled the building optimistically hoping to use the ATM for my deposit but it had a little roof too.  I realize now I could have just parked a yard out from the ATM and hopped out the drivers door to do my business, but at the time it didn't occur to me, so instead I parked at the grocery store next door.  I was planning to go there next, anyway.  Then I trotted across to the bank and made my deposit inside at the counter, then went over to the grocery store.
What I didn't think about when parking at the grocery store was that pulling through the two front to back spaces had me facing the wrong way when I pulled forward to leave.  This parking lot had the diagonal spaces where each row is supposed to be one way traffic.  Of course, it's not a big deal when you're in a sedan to go down the wrong way, but with Benny's bulk I didn't want to block up the passage.  However, there were no cars parked on either side of me and this made it easy to pull out and turn back in the correct direction (a partial u-turn) to leave.  I'll remember to be more careful with diagonal spots, and park where there are very few cars around to give myself plenty of maneuvering room.
Next learning experience, when leaving the grocery store's parking lot, I drove around a bank in the same lot, as it looked like the way around the smaller building would be more straightforward and clear of traffic on my way out to the street.  Unfortunately, the far side of the bank was a drive-through with a roof, and no way to go around it.  I had to back into a parking spot to turn around and go another way.  Luckily, the parking lot was not full or busy!  From this I resolved not to go around buildings that I didn't have to, if I didn't know for sure what was on the other side!
So, learning more every day, but so far nothing nerve-wracking has come up.  Benny isn't so hard to drive.  In fact, he's a really fun drive, with a great view.  And it feels nice to have so much space (our whole house!) around us in the "car" instead of walls and ceilings so close together.