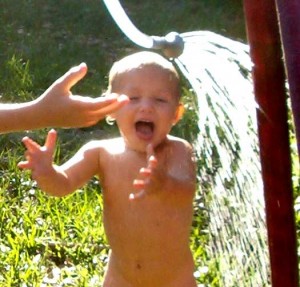 We want solar panels, but we want to leave even more.  No more waiting for things!  So it looks like this first trip will be sans solar power.  So what will we use for power?
Occasionally we will pay to park at a campground with hookups, but mostly not.  Occasionally we may stay in the driveway of a friend or relative who lets us plug into their home, but mostly not.
Our stove and oven run on propane.  We will see how little propane usage we can get away with. We will barbecue when we can, using wood where available.  I'll have to use propane (and the generator) to make my daily smoothies with an electric hand blender, and I'll need propane to bake our staples like granola and bread.  I should probably invest in (or learn to make) a solar oven for such things… Cooking outside would also help us cut down on the heat in the motorhome and so cut down on our AC needs.
Speaking of heat, we will park in the shade, keep the curtains closed (or windows open), and hopefully spend more time in the more Northerly states to cut down on cooling costs. We'll be getting some kind of fan or fans to help us through.  Fan recommendations are welcome.  We really need one for while we're driving, too, as the dash AC doesn't quite blow on the kids in the back.  Maybe one cigarette-lighter fan for driving, and one battery 0pperated for when we're parked?  I wonder if we can charge AA batteries by plugging our battery charger into our little cigarette-lighter inverter while driving.  Hmmm…
That inverter will hopefully supply all of our cell phone and laptop charging needs while we drive.  We have one like this.
Water heater?  Cold showers are difficult to luxuriate in and would certainly help us keep the water usage down!  And anyway, we have my nifty solar shower that will heat 5 gallons for free on a sunny day.  The girls and I tested it out recently in our yard and it was a hit.  We started the project late in the day and it didn't have time to get warm, but it was Florida in April, and a cold shower outside was perfect.  I'm thinking about getting an inflatable pool so the girls can use the shower outside when we're camping and splash in the pool, too.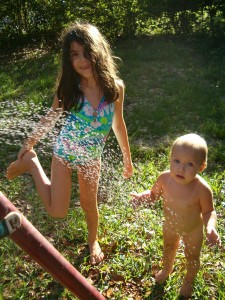 Laundry?  I've already posted about my non-electric washing machine.  The dryer is electric, but as it only takes one or two minutes, it is minimal.  Laundromats will be available if we decide we need them.
Don't worry about how we'll have to rough it, though.  The truth is that if it's too rough, we can always run the generator more.  We won't know for sure how much electricity we'll demand until we try it!